Quick article to present you the note type I'm always using to learn Japanese words/verbs with examples.
Quick setup
Just download this Anki deck, delete the "Export" deck and freely use the new note type for your card.
Note type should follow the pattern "Japanese (opt reversed)" followed by some numbers.
Fields
All fields are using Arial 20 font:
Primary (Exp: 食事) (sortable field)
Reading (Exp: しょくじ)
Meaning1 (Exp: meal, dinner)
Meaning2 (Exp: diet)
Context (Exp: する)
Exp1 (Exp: Your robot will prepare meals, clean, wash dishes, and perform other household tasks.)
Exp1 JP (Exp: あなたのロボットは食事の 支度[したく]、 掃除[そうじ]、 皿洗い[さらあら] その他の 家事[かじ]ができるでしょう。)
Exp2 (Exp: She went on a reducing diet.)
Exp2 JP (Exp: 彼女はやせるために 食事[しょくじ]を 制限[せいげん]した。)
Card Types
EN -> JP
Front template:
{{#Meaning1}} 

<!-- Conditional display if at least Meaning1 is existing -->


<

p

>{{#Meaning2}}<

b

>1. </

b

>{{/Meaning2}}{{Meaning1}}</

p

>
{{#Meaning2}}
<

p

><

b

>2. </

b

>{{Meaning2}}</

p

>
{{/Meaning2}}
{{#Context}}({{Context}}){{/Context}}

<

br

>
<

br

>

{{#Exp1}}
<

p

 

class

=

"extra"

>{{Exp1}}<

p

>
{{/Exp1}}

{{#Exp2}}
<

p

 

class

=

"extra"

>{{Exp2}}<

p

>
{{/Exp2}}
{{/Meaning1}}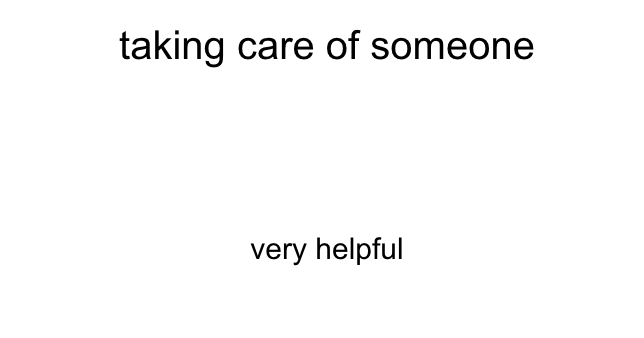 Back template:
<

p

>{{#Meaning2}}<

b

>1. </

b

>{{/Meaning2}}{{Meaning1}}</

p

>
{{#Meaning2}}
<

p

><

b

>2. </

b

>{{Meaning2}}</

p

>
{{/Meaning2}}
{{#Context}}({{Context}}){{/Context}}

<

hr

 

id

=

answer

>

<

p

 

class

=

"jp"

>{{Primary}}</

p

>
<

p

 

class

=

"jp"

>{{Reading}}</

p

>

{{#Exp1}}
<

hr

>
<

p

 

class

=

"extra"

>{{Exp1}}<

p

>
<

p

 

class

=

"extra jp"

>{{furigana:Exp1 JP}}<

p

>
{{/Exp1}}

{{#Exp2}}
<

p

 

class

=

"extra"

>{{Exp2}}<

p

>
<

p

 

class

=

"extra jp"

>{{furigana:Exp2 JP}}<

p

>
{{/Exp2}}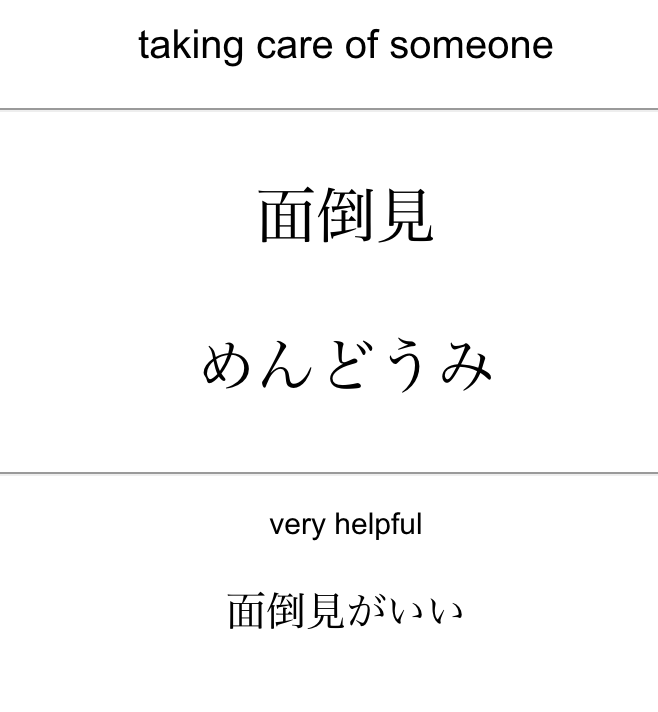 KJ -> all
Front template:
{{#Reading}}
<

p

 

class

=

"jp"

>{{Primary}}</

p

>
{{#Context}}({{Context}}){{/Context}}
{{/Reading}}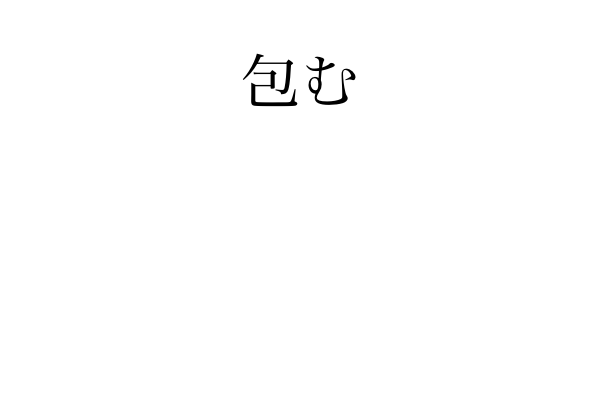 Back template:
{{FrontSide}}

<

hr

 

id

=

answer

>

<

p

 

class

=

"jp"

>{{Reading}}</

p

>

<

p

>{{#Meaning2}}<

b

>1. </

b

>{{/Meaning2}}{{Meaning1}}</

p

>
{{#Meaning2}}
<

p

><

b

>2. </

b

>{{Meaning2}}</

p

>
{{/Meaning2}}

{{#Exp1}}
<

hr

>
<

p

 

class

=

"extra"

>{{Exp1}}<

p

>
<

p

 

class

=

"extra jp"

>{{furigana:Exp1 JP}}<

p

>
{{/Exp1}}

{{#Exp2}}
<

p

 

class

=

"extra"

>{{Exp2}}<

p

>
<

p

 

class

=

"extra jp"

>{{furigana:Exp2 JP}}<

p

>
{{/Exp2}}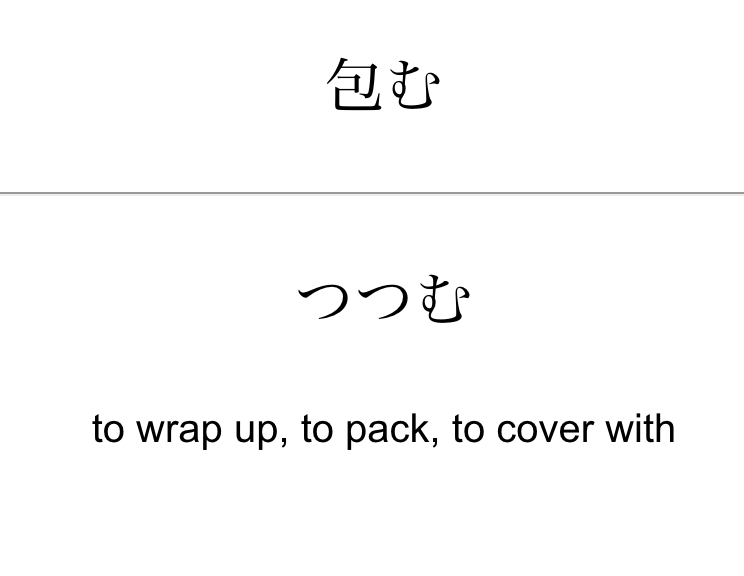 Exp1
Front template:
<!-- Conditional display if at least Exp1 JP is existing -->


{{#Exp1 JP}}

<

p

 

class

=

"jp"

>{{furigana::Exp1 JP}}</

p

>

<

b

><

p

 

class

=

"jp"

>{{Primary}}</

p

></

b

>

{{#Reading}}
<

p

 

class

=

"jp extra"

>{{hint:Reading}}</

p

>
{{/Reading}}

{{#Context}}  ({{Context}})<

br

/>  {{/Context}}

<

hr

>

<

p

>{{#Meaning2}}<

b

>1. </

b

>{{/Meaning2}}{{hint:Meaning1}}</

p

>

{{#Meaning2}}
<

p

><

b

>2. </

b

>{{hint:Meaning2}}</

p

>
{{/Meaning2}}

{{/Exp1 JP}}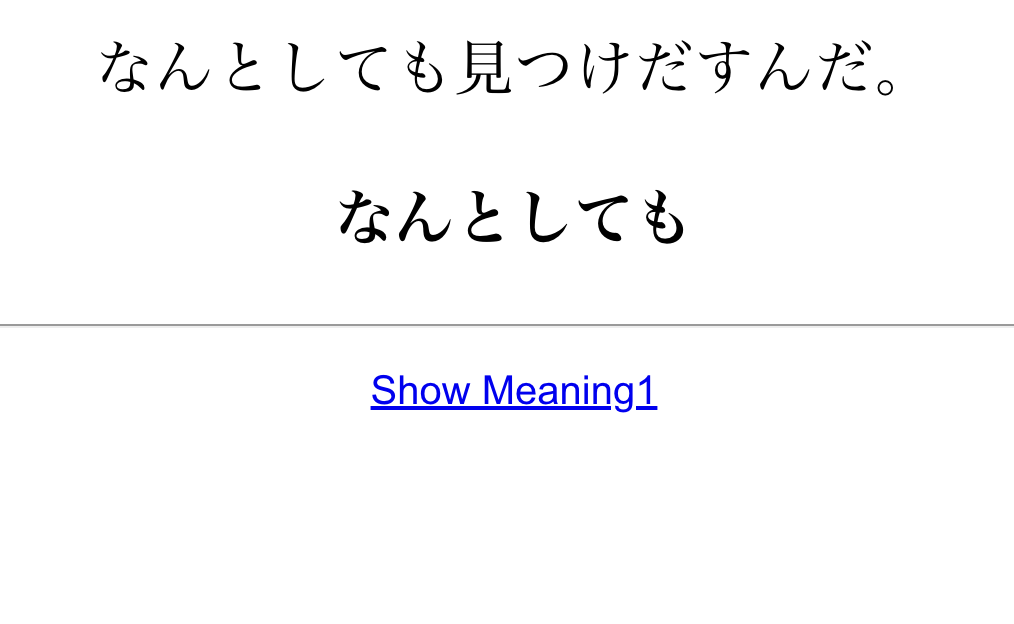 Back template:
<

p

 

class

=

"jp"

>{{furigana::Exp1 JP}}</

p

>
<

p

 

class

=

"detail"

>{{Exp1}}</

p

>

{{#Exp2}}
<

hr

>
<

p

 

class

=

"jp"

>{{furigana:Exp2 JP}}<

p

>
<

p

 

class

=

"detail"

>{{furigana::Exp2}}<

p

>
{{/Exp2}}

<

hr

>

<

p

 

class

=

"jp"

>{{Primary}}</

p

>
{{#Reading}}
<

p

 

class

=

"jp"

>{{Reading}}</

p

>
{{/Reading}}

{{#Context}} <

p

>({{Context}})</

p

>  {{/Context}}

<

p

>{{#Meaning2}}<

b

>1. </

b

>{{/Meaning2}}{{Meaning1}}</

p

>

{{#Meaning2}}
<

p

><

b

>2. </

b

>{{Meaning2}}</

p

>
{{/Meaning2}}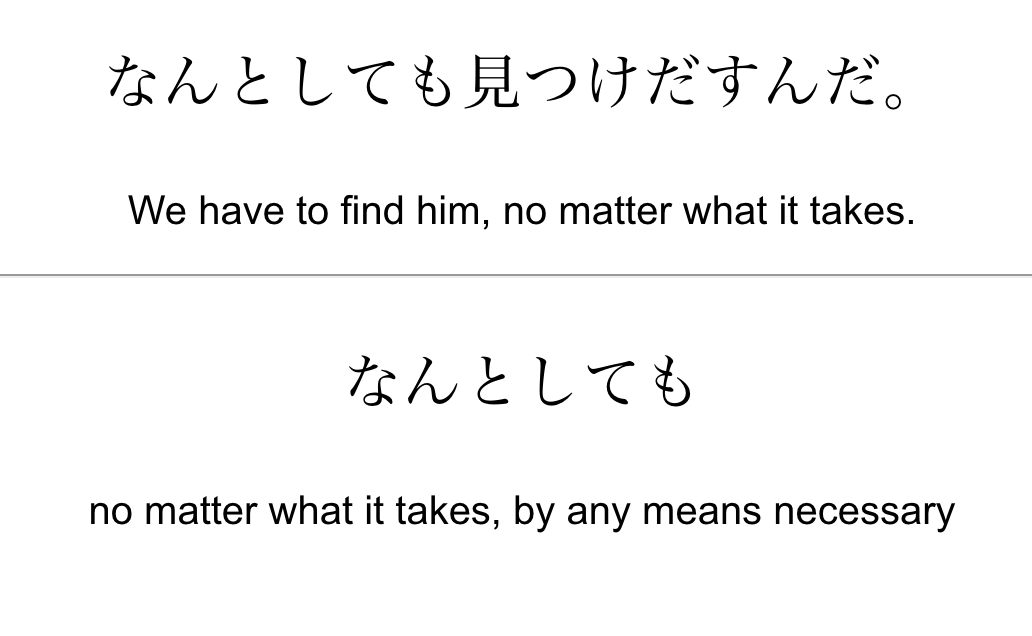 Card style (for all card types)
.

card

 {
 

font-family

: arial;
 

font-size

: 

20

px

;
 

text-align

: 

center

;
 

color

: 

black

;
 

background-color

: 

white

;
}

.

extra

 { 

font-size

: 

11

px

; }

.

jp

 { 

font-size

: 

30

px

; }

.

extra

.

jp

 { 

font-size

: 

20

px

; }
.

win

 .

jp

 { 

font-family

: 

"MS Mincho"

, 

"MS 明朝"

; }
.

mac

 .

jp

 { 

font-family

: 

"Hiragino Mincho Pro"

, 

"ヒラギノ明朝 Pro"

; }
.

linux

 .

jp

 { 

font-family

: 

"Kochi Mincho"

, 

"東風明朝"

; }
.

mobile

 .

jp

 { 

font-family

: 

"Hiragino Mincho ProN"

; }